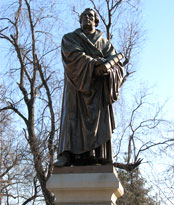 Apr 13, 2013
by DAVID C. STEINMETZ
c. 2012 Religion News Service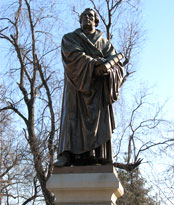 DURHAM, N.C. (RNS) Protestants have traditionally celebrated Oct. 31 as the anniversary of the start of the Protestant Reformation, a movement that divided Western Christendom and gave birth to such diverse religious groups as Lutherans, Presbyterians, Anglicans and Mennonites.
On Oct. 31, 1517, an Augustinian friar named Martin Luther nailed 95 theses for debate on the door of the Castle Church in Wittenberg, Germany, and so sparked a religious reform even he could not control.    But Luther's public life actually began five years earlier, 500 years ago this week, on Oct. 19, 1512, when he finished his formal theological education and was installed as a professor of Bible at a relatively new and still unprestigious Catholic university in Saxony.
No one, least of all his patrons, expected this soft-spoken young man with a tenor voice and a bubbling sense of humor to turn into a religious bomb thrower, whose theological convictions would alter the religious and political structures of Europe for five centuries. Indeed, no one could have been more astonished by this unexpected development than Luther himself.
Luther's enemies once described him as a seven-headed monster and suggested that he had been conceived by a prostitute through sexual union with a demon. Others, somewhat more temperate in tone, characterized him as a man utterly lacking in religious seriousness, an arch-heretic who attacked Catholic teaching concerning indulgences in order to win a bet.
At the same time, no one inspired a more ferocious loyalty among his followers than Luther. His friends called him a prophet and teacher of true Christianity, who inaugurated a new age in the history of the church. He was hailed as a champion of the freedom of the human conscience, as a defender of German national identity, and as the skilled translator whose German Bible lies at the foundation of the modern German language.
Mass media in the English-speaking world have found Luther's story fascinating. No less than three movies have been made of his life over the last 60 years. Yet each fails to capture Luther in all his charismatic complexity.
The first appeared in 1953 and cast Irish actor Niall MacGinnis in the title role. MacGinnis captured the warmth of Luther's personality, though not his irrepressible sense of humor. His portrayal underlined Luther's stubborn and uncompromising refusal to bow to the worried pleas of his friends or the threats of his enemies.
The second movie, released in 1974, featured an impressive cast, including Stacy Keach as Luther and Dame Judi Dench as his wife, Katherine. The original play by John Osborne portrayed Luther as an angry young man in a hurry, whose conflicts with the Catholic Church seemed to be an extension of his fierce conflicts with his father.
The third movie, directed by Eric Till in 2003, featured Joseph Fiennes as Luther and Sir Peter Ustinov as Elector Frederick the Wise. Till saw in Luther's story a conflict between a repressive conservative institution (in this case, the medieval Catholic Church) and a more liberal and liberating movement (in this case, the Reformation, which with all its violence and disorder marked for Till an advance over the conservative structures it attacked). For Till, Luther is a symbol of an enlightened spirit in an unenlightened age, an age not altogether unlike our own.
Perhaps out of respect for the serious tone of the plot, Fiennes played Luther as an intense, uncertain, humorless and generally liberal cleric, who could tear a passion to tatters, but whose claim to suffer fits of depression sounded more like acute dyspepsia than a bout of soul-wracking melancholy.
Still, there must have been more to the "real Luther" than the uncertain young friar Fiennes creates. Neurotic introverts seldom change the world. And whatever his flaws, Luther was no introvert. He was a great rollicking figure, a creature larger than life, who filled a room with his presence before he uttered a word. He enjoyed good beer, lively conversation, and the sound of hearty laughter. Till's Luther was certainly brave and in many respects admirable, but remained throughout a diminutive and monochromatic copy of the colorful and boisterous original.
In the end, only MacGinnis in the 1953 film portrayed a leader someone would be willing to follow. Twenty years later, Keach's leadership, such as it was, was all passion and angry denunciation with no clear direction forward. And Fiennes seemed far too uncertain to lead. But MacGinnis' Luther attracted followers by the force of his personality and set them in motion on the trail he was blazing.
Judging from these three movies, finding and portraying the "real Luther" in film has not been a task for the faint of heart. Yet wherever the German language is spoken, wherever Protestants (and Catholics) gather for religious services or social action, and wherever the political history of Europe is told (including its darker sides), the ghost of Martin Luther is present and cannot be avoided.
It's too bad that no movie has as yet been able to capture more than a small part of that culturally important story.
About the Author: (David C. Steinmetz is the Kearns Distinguished Professor Emeritus of the History of Christianity at the Divinity School of Duke University in Durham, N.C.)
Editor's Note: The 1953 film is owned jointly by the Lutheran Church—Missouri Synod and the Evangelical Lutheran Church in America in the form of Lutheran Film Associates. The 2002 film received financial backing and production assistance from Thrivent Financial for Lutherans. 
http://www.lcms.org/page.aspx?pid=1257